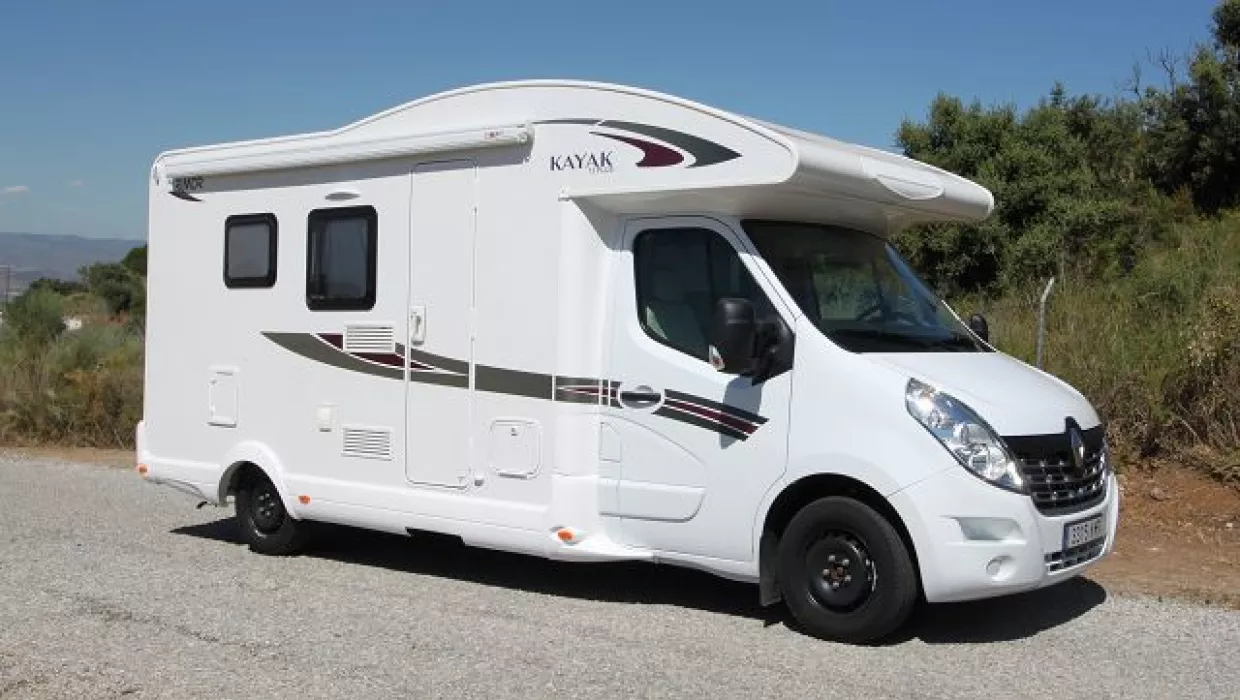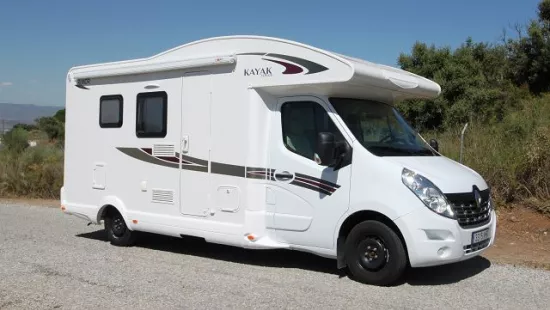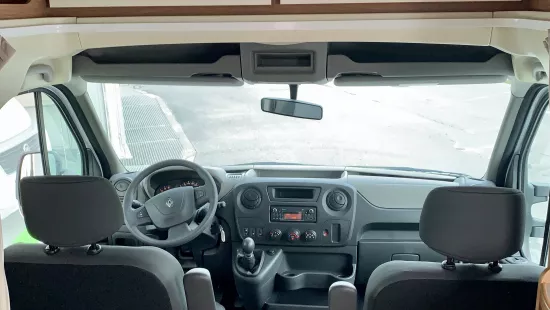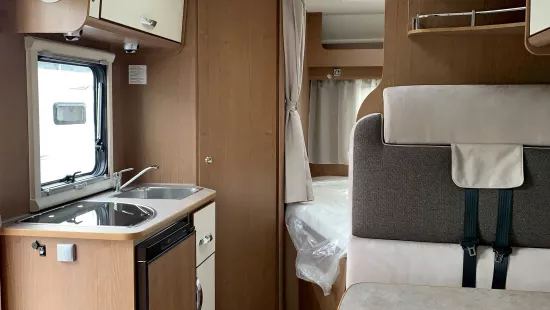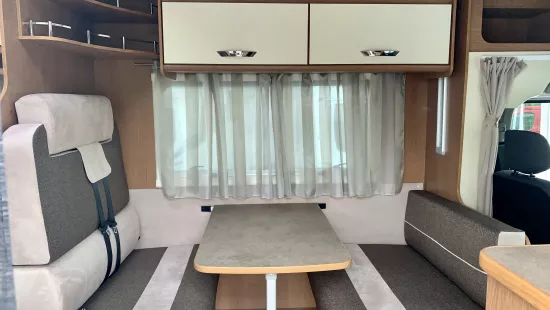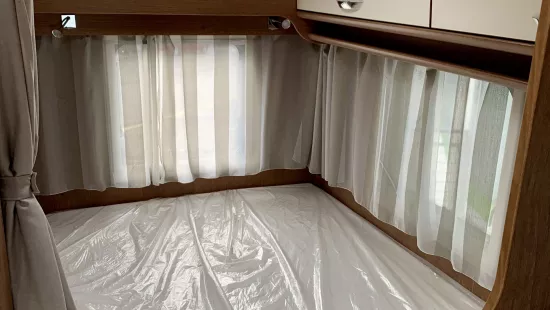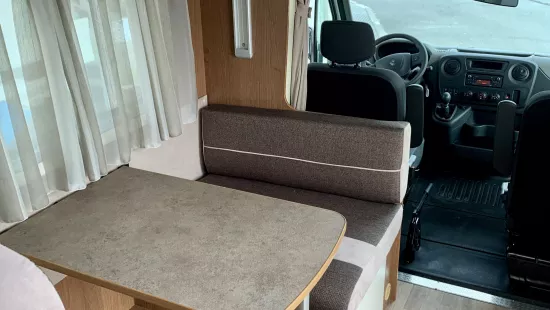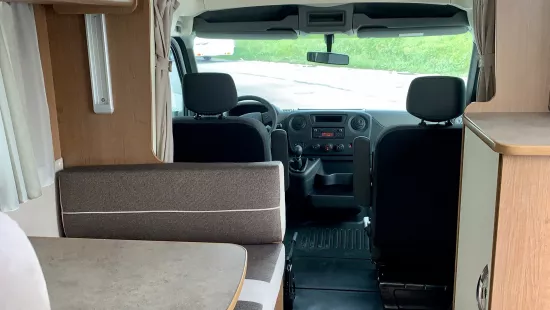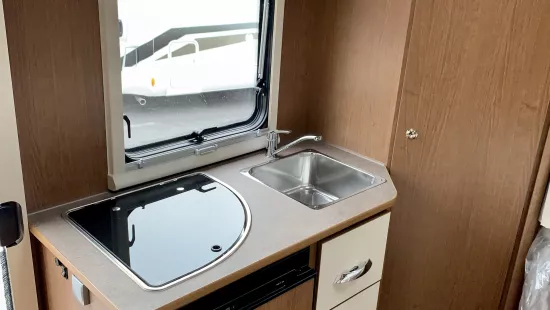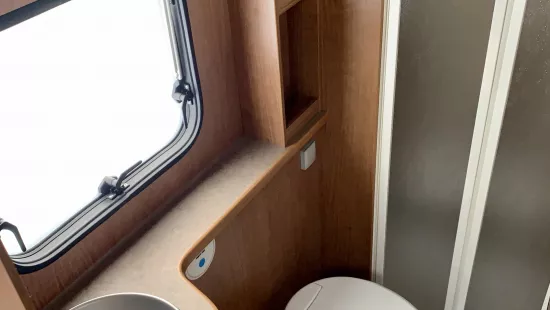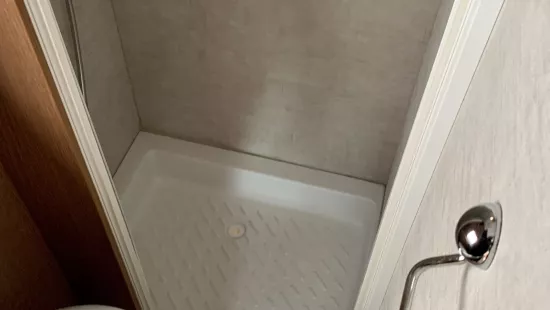 The Kayak 12 Plus is one of our new vehicles, a recent addition that we have made this 2021 by the Italian manufacturer Rimor.
This 145 hp Renault engine mounted is suitable for all audiences: families with children, couples or friends who want to travel the world living a new experience, which you will surely want to repeat. This model is 6.6 meters long and 2.96 meters high, with capacity for 4 people very confortably, although on request it could be up to 6 people thanks to the following distribution: a French bed in the rear area of the vehicle, a tilting bed that lowers from the ceiling in the dining area and the possibility of converting the dining room into a double bed.
All our vehicles are equipped with a bathroom (toilet and separate showers), a kitchen with a refrigerator, a sink and 3 cooking rings. You have plenty of compartments to store everything you need during the trip.
French double bed
138 x 205
Tilting front bed
140 x 200
Brand: Rimor
Engine: Renault
Fuel: Diesel
Manual shift
Width: 2.34 m
Height: 2.87 m
Length: 6.62 m
MMA: 3500 Kg
Deposit tank: 100 L
CV: 145
Fresh water: 20+80 L
Grey water: 130 L
A.C Cabin
Heating
Fridge: 100
Cooking stoves: 3
Sink
Toilet and shower
Base kit
Security kit
Courtesy kit
Awning
Power inverter
Auxiliary battery
Bike rack
Solar panel
TV + Antenna
Radio
Lugar de recogida
Carrer de les Salines, 2608830 Sant Boi de Llobregat, BarcelonaTlf.: +34 621 24 48 78
Lugar de recogida
Pol. Ind. Mallabiena 8, 48215.Iurreta, Bizkaia.Tlf.: +34 621 277 494
Lugar de recogida
Camino Arroyo Vega, Ds 1. 28670.Villaviciosa de Odón, Madrid.Tlf.: +34 621 22 98 68
Lugar de recogida
CR MONTAÑÉZ, 13 A-BIS, 29004, MALAGATlf.: 621 247 784
Lugar de recogida
Carretera Huesca, Km 3. 50015Zaragoza, Aragón.Tlf.: +34 621 240 072
Lugar de entrega
Carrer de les Salines, 2608830 Sant Boi de Llobregat, BarcelonaTlf.: +34 621 24 48 78
Lugar de entrega
Pol. Ind. Mallabiena 8, 48215.Iurreta, Bizkaia.Tlf.: +34 621 277 494
Lugar de entrega
Camino Arroyo Vega, Ds 1. 28670.Villaviciosa de Odón, Madrid.Tlf.: +34 621 22 98 68
Lugar de entrega
CR MONTAÑÉZ, 13 A-BIS, 29004, MALAGATlf.: 621 247 784
Lugar de entrega
Carretera Huesca, Km 3. 50015Zaragoza, Aragón.Tlf.: +34 621 240 072