Travel your way in a motorhome
Fully equiped
Our motorhomes have everything you need for your trip.
Unlimited kilometers
Enjoy the trip without worrying about distances.
Lots of extras
We have all the extras you need to make your adventure awesome.
Pets are welcome
Your pet is part of your family. You want to enjoy the trip all together.
Travel insurance
We include the most complete travel insurance: low deductible, additional drivers, ...
Customized service
Live your vacation as a great experience that we can tailor made for you.
Travel your way in a motorhome. We have the motorhome that best suits the needs for your trip
You will feel like home, everywhere.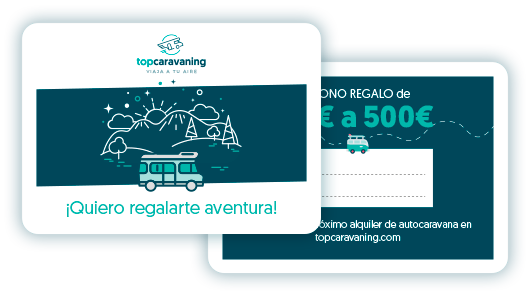 Nuevos BONOS REGALO.
Regala aventura con Topcaravaning.
Ahora puedes tener el mejor de los detalles con quienes más quieres y regalarles aventuras. Bonos desde 50€ hasta 500€ para canjear en el próximo alquiler de una de nuestras autocaravanas.
Quiero regalar aventura